Category: Indexers
No Operator Required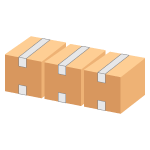 Uniform Cartons
Indexing
110 VOLTS
60 HZ POWER
REQUIREMENTS
50 PSI
2 SCFM AIR
REQUIREMENTS
The BestPack ARX Indexer is the perfect unit to place in front of the BestPack AS or AQ type Fully Automatic Unifrom Carton Sealers. The ARX Indexer separates and times the cartons in the sealer to insure proper top flap folding and sealing of the cartons with no carton jamming. The indexer also has a timer that is adjustable to control the spacing between the cartons by controlling how long a duration the drop and stop is. This timing ability is useful in timing the speed of cartons being fed down line to such equipment as label printers and or carton palletizers. This unit is the strongest and most positive indexing system in the market.
All BestPack units are available in our standard baked enamel finish and food grade 304 stainless steel for 21 CFR 110 compliance.
Speed

Up to 57 Cartons/min.

Power Requirements

110 Volts 60 Hz

Air Requirements

50 PSI, 2 SCFM

Shipping Weight

260 lbs

Machine Dimensions

(34.2") x (22.5") x (35.0")

Carton Range

(6.0" - 27.5") x (6.0" - 14.6") x (4.5" - 20.0")

Conveyor Height and Adjustment

(22.5" - 30.0")
Specifications based on ARX10H
Heavy Duty Frame

2mm Welded Steel Frame

Two Motor Drive Roller Conveyors

Two Section Powered Rollers

Front Section with Drop and Stop Feature for Positive Carton Separation

Adjustable Timer

For Carton Space Separation

Oil-Less High Quality SMC Pneumatic Air Cylinder

For Long Lasting Dependable Service

UL Approved Electrical Parts
Locking Casters

The heavy duty locking casters allow the carton sealer quick and easy mobility to other locations.

High Speed Motor

High Speed Motor Upgrade (up to 125 ft.)

On/Off Control Box

With the additional ON/OFF control box you can stop and start the carton sealer, no matter what side the operator is on.

Custom Interlock Gates (Special Order)

Aluminum frame interlock safety gates can be added to the carton sealer for an extra layer of protection. These interlock safety gates protect the operator from all of the moving parts of the carton sealer.
The BestPack Advantage
Exclusive Benefits when you choose BestPack!
Learn more
©2020 BestPack Packaging, Inc. All Rights Reserved. Website designed by BestPack