Category: Carton Erectors
Belt Drive:

2 Top/2 Bot Belt Drive
No Operator Required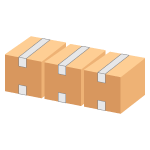 Uniform Cartons
Bottom Seal
110V 60 Hz
1-Phase POWER
REQUIREMENTS
100 PSI, 10+ SCFM
AIR
REQUIREMENTS
The model ESHB is an innovative high performance carton erector/sealer. This erector is built for heavy usage with quick and simple carton size changeover. The adjustments for the hopper width, carton width, and carton height are fine-tuned with easy-to-adjust screw drives. If you are looking for a simple yet heavy-duty built carton erector, this is a must-see system.
Speed

Up to 15 Cartons/min.

Power Requirements

1110 Volts 60 Hz - Single Phase

Air Requirements

100 PSI, 10+ SCFM

Shipping Weight

2,425 lbs.

Machine Dimensions

(126.0") x (75.0") x (79.0")

Carton Range

(6.0" - 25.5") x (6.0" - 14.0") x (6.5" - 20.0")

Conveyor Height and Adjustment

(22.5" - 30.0")
Specifications based on ESHB11-2
Spare Parts Kit

Minimize downtime by always having a spare with BestPack's Spare Parts Kit.
*Spare Parts Kits may vary based on machine*

BestPack Carton Sealing Tape

Put high quality tape on your BestPack Carton Sealer. Make sure to order machine length rolls for your new carton sealer.

Spare Tape Heads

Order a spare tape head with your machine to minimize down time. Having a spare will allow you to drop in a tape head with a new roll of tape in no time!

Long Infeed/Exit Conveyor w/ L-Bracket

This 39.5 in. long conveyor is a great work platform and allows for staging of cartons on the infeed and the exit.

Food Grade 304 Stainless Steel

This machine is available in 304 stainless steel which is food grade safe for food applications.
The BestPack Advantage
Exclusive Benefits to BestPack Tape Customers!
Learn more
©2019 BestPack Packaging, Inc. All Rights Reserved. Website designed by BestPack