Category: Carton Sealers
Belt Drive:

Top & Bot Belt Drive
No Operator Required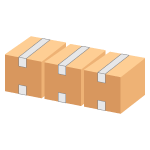 Uniform Cartons
HSC Seal
220 VOLTS
3-PHASE POWER
REQUIREMENTS
90 PSI
8 SCFM AIR
REQUIREMENTS
The BestPack ATFXU Series is an operator-free carton sealer designed to cater to the heavy duty needs of HSC carton usage. Using pressure sensitive tape to seal cartons, the ATFXU was designed for oranges, lemons, potatoes, and other produce. It has four stations: an indexer station, a positive outer sleeve lifting station with vibration that is activated only if the outer sleeve does not lift, a flap folding station, leading to a final station which seals the top and bottom flaps, leaving the top and bottom flaps sealed but not tabbed together.
Our ATFXU line incorporates our exclusive 2″ or 3″ pop-out pressure-sensitive "High Speed" tape heads with BestPack's patented tab adjustment. All BestPack units are available in our standard baked enamel finish and food grade 304 stainless steel for 21 CFR 110 compliance.
Speed

Up to 38 Cartons/min.

Power Requirements

220 Volts 3 Phase - 6 AMPS, 10:1 Ratio, 1/5 hp

Air Requirements

90 PSI, 8 SCFM

Shipping Weight

1,098 lbs

Machine Dimensions

(107.5") x (40.3") x (58.7")

Carton Range

(16.7" - 23.3") x (11.6" - 15.3") x (5.3" - 10.5")

Conveyor Height and Adjustment

(24.0" - 31.0")
Specifications based on ATFXU-2
Exclusive Pop-out Pressure Sensitive "High Speed" Tape Head

With Patented Tab Adjustment and Noise Reduction Arm

Heavy Duty Frame

3mm Frame

Unique Positive Outer Sleeve Lifting Station

Flap Folding Horns

Rear Minor Flap Side Action Kicker

SMC Maintenance Free

Oil-less Air Cylinders with Air Cushion

Capable of Interchanging 2" or 3" High Speed BestPack Tape Heads

High Speed Top and Bottom Belt Drive System

Quick Change Belt Drive Assembly Tracks

Belt Drives are Equipped w/ a "V" Guide

Self Centering Guide Rails

Width/Height Adjustment

Can Be Mounted on Either Side of Carton Sealer

Adjustable Compression Rollers

Interlock Safety Gates

Tape Roll Lengths

1,000 yd., 1,500 yd., 2,000 y

UL Approved Electrical Parts

Heavy Duty Casters
Spare Parts Kit

Minimize downtime by always having a spare with BestPack's Spare Parts Kit.
*Spare Parts Kits may vary based on machine*

Spare Tape Heads

Order a spare tape head with your machine to minimize down time. Having a spare will allow you to drop in a tape head with a new roll of tape in no time!

BestPack Carton Sealing Tape

Put high quality tape on your BestPack Carton Sealer. Make sure to order machine length rolls for your new carton sealer.

Low Tape No Tape Sensor

The Low Tape light allows operator to prepare a new roll of tape. The No Tape alarm will inform operator of error so that the carton may be resealed.

Food Grade 304 Stainless Steel

This machine is available in 304 stainless steel which is food grade safe for food applications.
The BestPack Advantage
Exclusive Benefits when you choose BestPack!
Learn more
©2019 BestPack Packaging, Inc. All Rights Reserved. Website designed by BestPack